If I remember correctly, the first LGBT song I ever heard was by t.A.T.u. All the Things She Said was actually really popular back in, like, the 2000s which is kind of ironic because of the controversy it struck. In fact, there were moves to ban the video world wide. It actually took me awhile to figure out what they were singing about, because I thought the lyrics were 'all the things you said' (heteronormativity, whuddup). I'm pretty sure the video put it into perspective and then I was like. Oh shit, cool!
And I'm all mixed up, feeling cornered and rushed
They say it's my fault, but I want her so much
Want to fly her away, where the sun and rain
Come in over my face, wash away all the shame
When they stop and stare – don't worry me
'Cause I'm feeling for her, what she's feeling for me
I can try to pretend, I can try to forget
But it's driving me mad, going out of my head
All The Things She Said (video)
Since their glory days there's been some controversy surrounding – well, Yuliya Volkova and some pretty homophobic comments she made in 2014, but this song is still the first one I ever heard with female on female pronouns, and the first video I ever saw with female kisses, and it'll always have a spot in my heart. I also always really loved All About Us, even though it's more subtle gay. Can you guys believe these girls are Russian? I know, mind blown.
After that I mostly spent a lot of my time digging up any LGBT-esque song I could find on youtube. I don't remember coming across much, which could have been a sign of the times or a sign of my skill when it comes for searching for things. I do remember seeing that a lot of things were queerer than I had though, like Christina Aguilera's Beautiful (2002), or a few music videos that were gayer than the lyrics suggested (Like Avicii's Addicted To You).
But besides the point, here's a small breakdown over the years:
I Kissed a Girl – Katy Perry (2008)
Fever – Adam Lambert (2009)
Do it Like a Dude – Jessie J (2010)
Born This Way – Lady Gaga (2011)
Same Love – Macklemore & Ryan Lewis (2012)
Girls/Girls/Boys – Panic! At the Disco (2013)
She Keeps Me Warm – Mary Lambert (2014)
All American Boy – Steve Grand (2015)
Son of a Preacher Man – Tom Goss (2016)
But wait, Charlotte, isn't this challenge supposed to be about things that inspired you? Well, yes, technically, I guess. You guys don't want to just listen to me ramble? I suppose that's fair.
Alright, so listen, I have a lot of love for Hayley Kiyoko.
"Tell me something nobody knows about you, something you are afraid to sing about?"
I immediately thought, well I like girls and that's what I want to sing about, but even then I struggled to say it out loud. – Paper Magazine.
She's beautiful, she's talented, but what she said that really inspired me personally, was this:
"Most of the time, you become confident after years of struggling during your young adulthood. I want to encourage the youth to find that confidence now. Not later. For them to know their own self-worth at an earlier age." . – Paper Magazine.
Hayley's 25 years old and she's doing her best to be herself and be a role model at the same time. Her confidence to not only come out, but to do so publicly, to stake her career on that, is honestly breath taking. I adore her music. I'm living for the message she's sending. If you do nothing else, watch the video I paste below. It's very relatable.
I also really suggest Cliff's Edge and Gravel to Tempo and Sleepover.
And that brings us to Troye Sivan.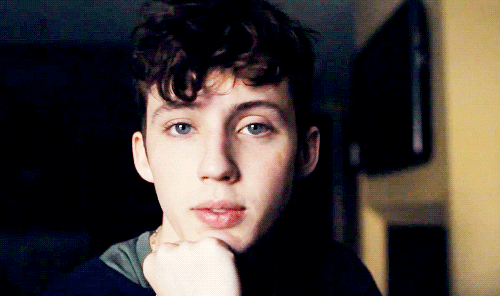 Some people were lucky enough to know Troye from youtube before he was famous, I wasn't. I found him after hearing him on the radio for the first time. Actually, originally I wasn't much of a fan, his music wasn't really my type. But the longer I listened, the more I liked it, and the longer I really listened, the more I fell in love with him.
I adore Troye Sivan for a handful of reasons: he's cute, he's hysterical, he makes music that's important to him, he's an activist, and he made sure to come out before he got signed so that no one could make him stay in the closet. On youtube, the way youtubers do, for the rest of us to see.
"This is not something that I'm ashamed of," he said, "and it's not something that anyone should have to be ashamed of." – Out Magazine
I have a lot of love for Troye and his ability to do what he loves, have fun with it, and have it matter. This boy is important, and he's going places. Check out his GLAAD Media Award speech if you're interested. If you haven't watched any of his music videos, I suggest starting with the Blue Neighborhood trilogy, and then watching Heaven if you feel like crying. It's powerful.
I was going to stop there but you know what these are all a little sad so, have the remix of Wild because it's honestly just warm fuzzy feelings and I adore it
Also, I saw this boy in concert and I'm pretty sure it killed me. I'll never be over it.
Alright that's all for now guys,
Peace!
-Char